Antonio Brown arrested in Florida-Considering the alleged failing to pay of child support
former NFL superstar wide receiver Antonio Brown found himself in hot water in Dania Beach, Florida. The reason behind his arrest? Alleged failure to meet his child support obligations to the mother of one of his children. This legal debacle has raised eyebrows and generated significant attention, shedding light on an important aspect of family law.
Antonio Brown's Arrest in Dania Beach
The incident took place in Dania Beach, Florida, when Antonio Brown was arrested for purportedly failing to pay child support. This arrest sent shockwaves through the sports world, particularly among Brown's fans and detractors alike.
Insights from the Broward County Sheriff's Office
To gain a deeper understanding of this matter, let's delve into the details provided by the Broward County Sheriff's Office. According to their official report, the arrest transpired as an officer intercepted Brown outside his residence, just as he was about to step into a taxi.
Uncovering the Arrest Warrant
Upon approaching Brown and introducing himself, the officer made a startling discovery – an active arrest warrant issued for the former NFL star. This event unfolded on a Sunday, with Brown being taken into custody at precisely 3:19 p.m.
The Nature of the Warrant
The arrest warrant, as it turns out, was a "writ of bodily attachment." Such writs are a commonplace legal recourse in child custody cases, intended to ensure that parents meet their financial obligations towards their children. They essentially act as a legal instrument to enforce child support orders.
After posting a $15,000 bond, Brown has regained his freedom.
According to Wiltrice Johnson, the mother of Brown's daughter, Antanyiah, the former Pittsburgh Steelers and Tampa Bay Buccaneers wide receiver is indebted to the tune of nearly $31,000 in unpaid child support.
A judge ruled that Brown had not paid his child support obligations in August, but the matter has not moved forward significantly since then.
Brown has been active on social media after his release, as is his habit as a divisive wide receiver. His online activities included a visit to a Maryland jeweler's shop, a video shoot with a bright yellow Lamborghini, and posts to his Instagram Stories.
Wiltrice Jackson, the mother of Brown's eldest daughter, informed TMZ that Brown's outstanding child support debt exceeds $30,000. A warrant for Brown's apprehension was issued in August due to his failure to meet child support obligations, as reported by CBS.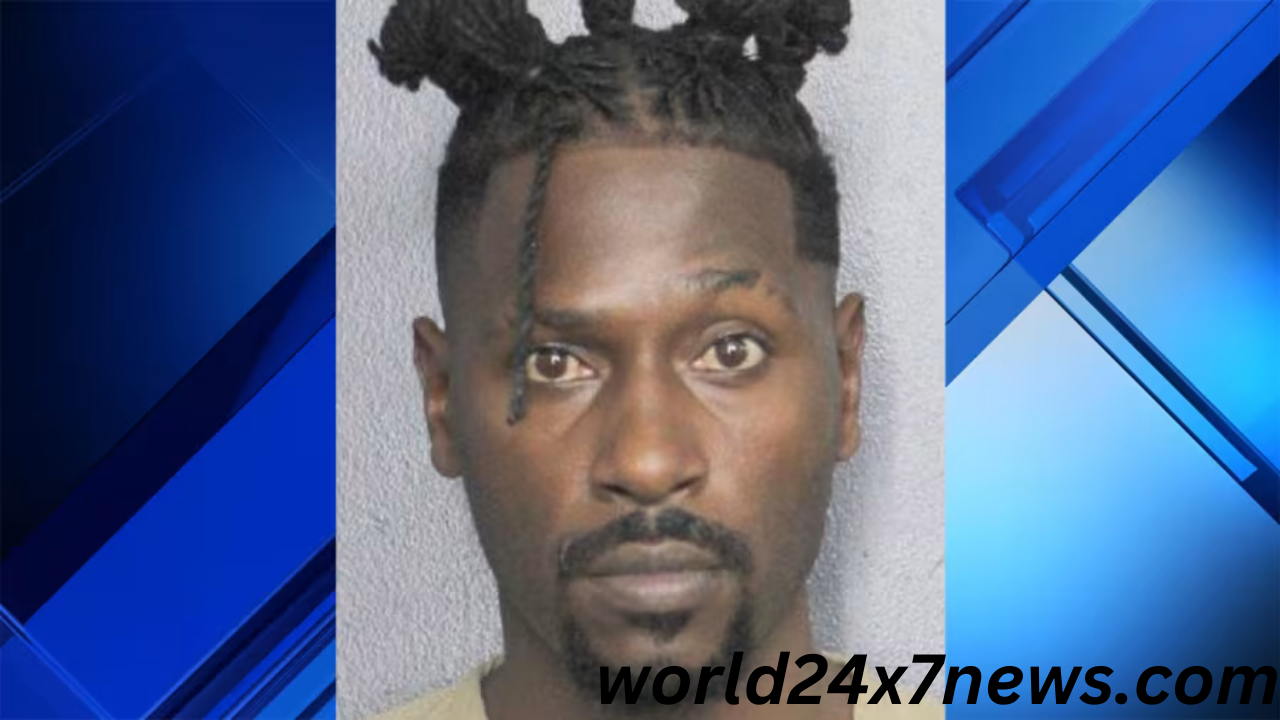 Jackson expressed her desire to witness Brown's arrest for the repercussions of his actions on her and their daughter. She stated, "At this moment, he's openly disrespecting the judge and the entire system because he seems to believe he is beyond consequences," in her conversation with TMZ.
Since his last NFL game on December 2, 2021, Antonio Brown is mired in a series of controversial statements, conduct, and lawsuits.
May 2022: The video shows Brown undressing in a hotel swimming pool in the UAE, with a woman who appears to be crying and trying to get away from him.
October 2022: Allegations of selling fake watches were made against Brown. He was found accountable in October 2023 and given the order to pay the plaintiff roughly $170,000.
November 2022: Brown seems to taunt the former quarterback, Tom Brady, by sharing a conspicuously fabricated image of himself with Brady's former spouse, Gisele Bundchen. In this image, Gisele was digitally manipulated to give the appearance of nudity.
December 2022: Tampa's prosecutors decided not to press charges of misdemeanor violence against Brown. This choice was made after the accuser backtracked on her earlier claims that Mr. Brown intended to harm her physically.
"I do want him arrested," Jackson expressed to TMZ. She continued, "Because, right now, he's making a mockery out of the judge, out of everything, because he feels like he's untouchable."
As per TMZ's account, in August, a judge passed a ruling that Brown had defaulted on his child support payments and issued an order for his arrest.
Local 10 News acquired a copy of his arrest report on Monday, which detailed that Brown was apprehended outside his residence in Dania Beach shortly after he entered a taxi.
The report indicated that the arrest warrant had been filed by the Miami-Dade Police Department.