Netflix stock Shares Jump After Success Password Crackdown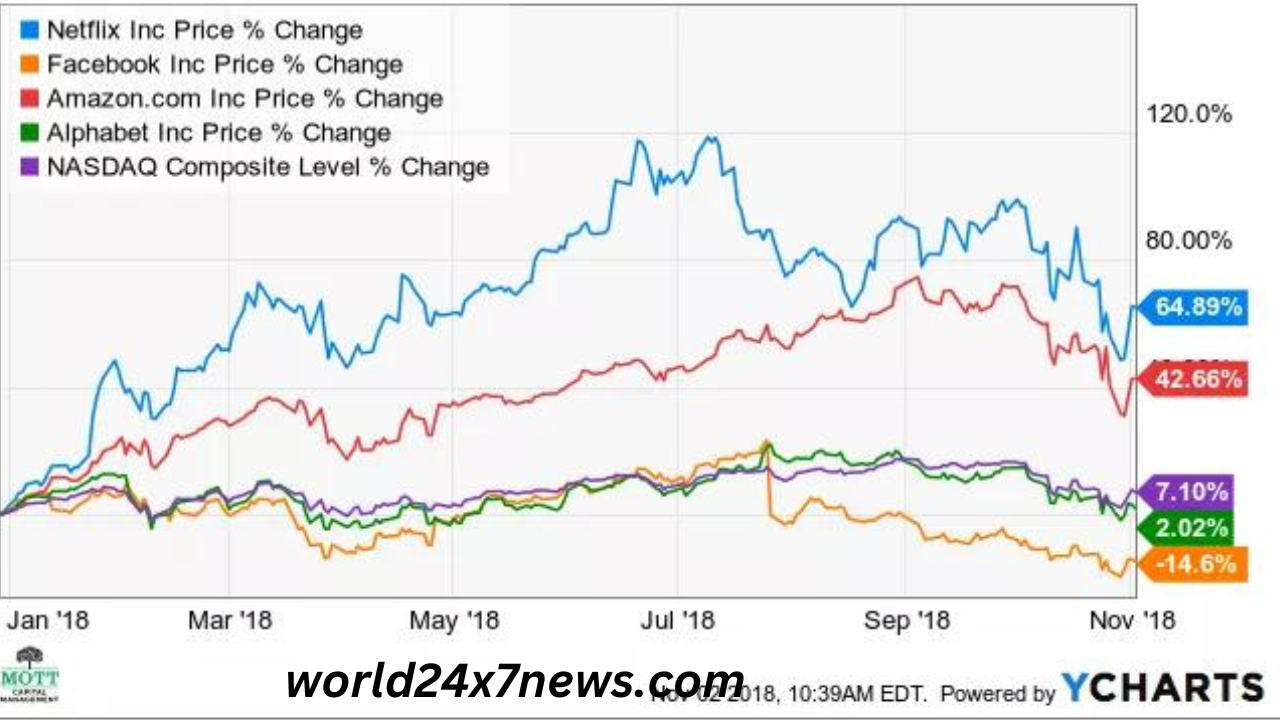 Netflix's efforts to reduce the prevalence of password sharing appear to be having a positive impact, as the streaming service has seen an increase in its subscriber base of 9 million in the third quarter, surpassing the initial estimate of 6 million.
This has led to a significant increase in the company's share price, with the stock rising by 18 percent in early trading on Thursday. This follows the company's announcement of a rapid increase in subscription rates for its fundamental and premium user base in the US, UK, and France.
As a result, customers who choose the basic tier in the US will see an incremental increase in their monthly billing of $2, bringing the total to $11.99. Premium subscriptions, on the other hand, will see a $3 increase, bringing the monthly cost up to $22.99. On the other hand, basic users in the UK will see a little additional price of £1, making their monthly fee £7.99, while premium subscriptions will see a £2 increase, making the new monthly fee £17.99.
The media streaming giant reported revenues of $3.73 per share, together with an overall revenue value of $8.4 billion. According to analysts, EPS was projected at $3.49 on revenue of $8.4 billion. Incredibly, results in the third quarter were more than twice as good as projected by Netflix.
The company reported a significant increase in paid subscribers, exceeding the initial estimate of just over 6 million by a remarkable 8.76 million in the third quarter.
In a letter to shareholders, Netflix acknowledged the difficulties the industry has faced over the past six months as a result of simultaneous strikes by American writers and actors. Despite the fact that the writers' strike is over, talks with the actors' unions are still going on. The business pledged to speed up the resolution of any outstanding problems, ensuring a prompt return to the creation of adored films and TV shows for viewers.
Looking ahead to the fourth quarter, Netflix foresees earnings per share amounting to $2.15, with revenues hovering around the $8.69 billion mark. This represents a projected revenue growth rate of approximately 10.7%, following a 7.8% increase in the third quarter.
Now that the resources are starting to run out, it's essential to understand the potential of the next growth phase. Netflix is confident that they have the perfect mix of original blockbusters and licensed classics in their library to keep viewers coming back.
Also Read About India's First RapidX
They point to "Suits," a legal drama that got its name from Meghan Markle, when it first aired on an American network in 2011. It's since become one of the most popular English TV shows on Netflix, with over a billion people watching it on a global scale over the summer.
Netflix, which has been focusing more on in-house productions over the last few years, understands the importance of licensing and sees potential opportunities to get more hit content, especially as the competition changes.
Industry analysts opine that licensed material is poised to become increasingly pivotal, especially considering the impact of Hollywood strikes, which have temporarily halted new productions for several months, prompting a shift in audience preferences.
According to Paolo Pescatore, an analyst at PP Foresight, clients should brace themselves for significant price increases in the coming years. Netflix is likely to boost pricing to protect its revenues, especially given the costs connected with licensing and new projects.
The firm has also recently announced plans to expand into the actual world by opening select brick-and-mortar locations that will offer shopping, dining, and unique Netflix "experiences" comparable to a Netflix-themed version of Disney World.
According to Pescatore, these price increases are practically unavoidable and may become an annual occurrence, mimicking the approach used by traditional pay-TV providers and other comparable subscriptions.
"We are upgrading our rating to 'Buy' as we believe Netflix will continue to reap the rewards of password sharing through 2024. Additionally, we expect advertising efforts to significant increases over the long term, as well as 'share buyback commitments', including a $10 billion investment. By 2025, we predict the emergence of three key content pillars:
"Squid Game," "Wednesday" and "Stranger Things." "Additionally, video game integration has attractive free-to-play potential. With additional growth opportunities at its disposal, Netflix remains poised for expansion continues," Thornton noted in the announcement.