Anushka Sharma Teases Katrina Kaif By Calling Her Scary
When it comes to notable friendships among contemporary actresses, Anushka Sharma and Katrina Kaif undoubtedly take the spotlight. Their bond extends beyond mere professional collaborations, with their close friendship is evident through their multiple film ventures and genuine enjoyment of each other's company, as often showcased on Instagram. However, there was a lighthearted moment in the past when Anushka playfully referred to Katrina as "scary," adding a humorous touch to their camaraderie.
BackStory
Katrina Kaif, a prominent Bollywood star with a massive fan following, has experienced her fair share of highs and lows within the industry. However, her perseverance and talent have propelled her to great heights, allowing her to deliver remarkable performances in the realm of showbiz. Today, we delve into a throwback moment when Kat graced the stage of Karan Johar's talk show, 'Koffee With Karan,' alongside Anushka Sharma. Little did she know that this particular episode would entail some playful roasting by her fellow guest, Arjun Kapoor, and Karan Johar himself, regarding her perceived aloofness when it came to discussing her personal life.
The clip of this entertaining exchange has resurfaced on social media, capturing the attention of netizens who have eagerly shared their reactions and opinions. As discussions unfold, it's worth noting that some comments have even taken a playful turn, with netizens playfully involving Katrina's husband, Vicky Kaushal, in the banter.
Katrina Kaif shares a close bond with numerous A-list celebrities in the Bollywood industry, and following her marriage to Vicky Kaushal, the couple relocated to a new residence, which interestingly placed them as neighbors to Anushka Sharma in Mumbai. Now, delving into the topic of the Koffee With Karan episode, Katrina appeared as a guest on Season 5 alongside her friend Anushka.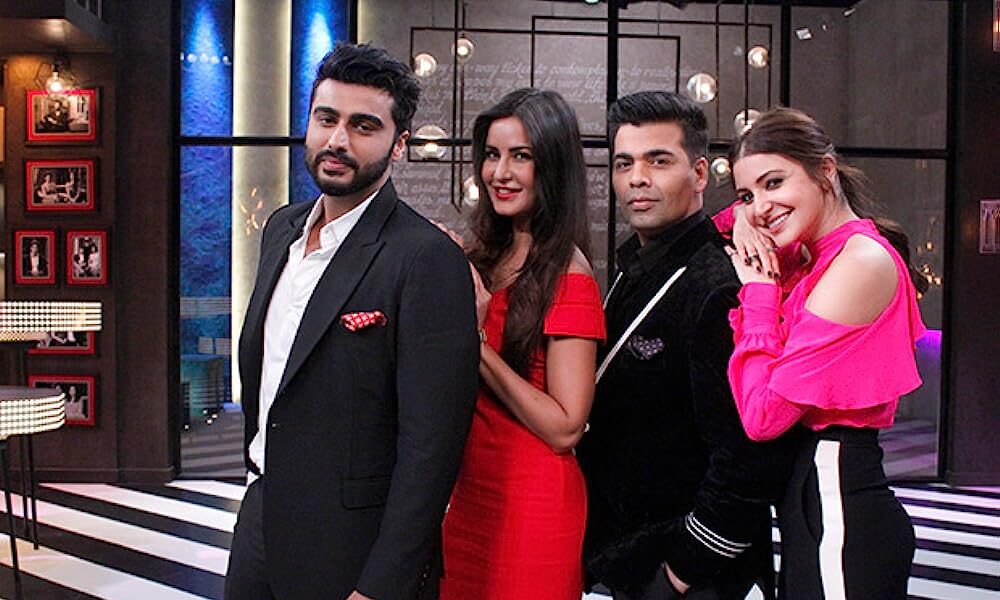 The Conversation Between Anushka, Arjun, and Katrina Kaif
The Reddit page known as 'Bolly Blinds N Gossip' recently shared a video clip from the episode featuring Anushka Sharma, Katrina Kaif, and Arjun Kapoor. In the clip, a playful conversation unfolds between the guests, with Sharma initiating the discussion by saying, "One second, you know how many girls have said they wanna have a discussion with you about…" before being interrupted by Arjun Kapoor, who adds, "About life on the show."
During the lively Koffee With Karan episode, Katrina Kaif, with a touch of playfulness, chimes in with an intimidating voice, stating, "You better come to me and say it to my face." Arjun Kapoor promptly responds, acknowledging the aura that Katrina exudes, saying, "She is like giving you that vibe." Wrapping up the conversation, Anushka Sharma humorously remarks, "A lot of girls find you attractive. But you are very scary."
The Video
About Kat Kaif
Katrina Kaif, a renowned Bollywood actress, has carved a prominent place for herself in the industry through her exceptional talent and mesmerizing beauty. With a successful career spanning several years, she has delivered remarkable performances in a wide range of roles, captivating audiences with her grace and screen presence. Known for her dedication and hard work, Katrina continues to captivate hearts with her stunning performances, making her one of the most adored and influential figures in the world of Indian cinema.
More Entertainment News