Karwa Chauth 2023- The Festival of Karwa Chauth date, history, significance,shubh muhurat,
Karwa Chauth 2023: read about the date, history, significance, vrat katha, shubh muhurat, celebrations and everything you need to know.
The forthcoming auspicious occasion of Karwa Chauth looms on the horizon, and wedded Hindu women are preparing to commemorate it with great enthusiasm. Widely observed in the Northern regions of India, this festival is also known as Karaka Chaturthi or Karva Chauth.
Married women undertake a rigorous nirjala vrat, fasting from sunrise until the moon's appearance, praying for the longevity and prosperity of their husbands. Nourishment and hydration are refrained from until an offering, known as Arghya, is made to the Moon using an earthen vessel referred to as Karva.
While traditionally upheld by married and betrothed women, it's noteworthy that in recent times, husbands and unmarried couples have begun partaking in this fast to express their devotion to one another. If you intend to partake in the festivities of Karwa Chauth this year, acquaint yourself with the date, historical context, significance, auspicious timings, vrat katha, and the vibrant celebrations associated with this festival.
Also Read About Jio Share Price 
Karwa Chauth 2023 Date
Karva Chauth Auspicious Timing Karwa Chauth is observed on the Chaturthi Tithi during the Krishna Paksha of the Hindu lunar month of Kartik. This year, it falls on the 1st of November, a Sunday. According to Drik Panchang, the Karwa Chauth puja muhurat is scheduled from 5:36 pm to 6:54 pm. The fasting period extends from 6:33 am to 6:15 pm, and the moon is anticipated to rise at 8:15 pm. Additionally, the Chaturthi tithi will commence on the 31st of October at 9:30 pm and conclude on the 1st of November at 9:19 pm.
History of Karwa Chauth, Vrat Katha and Significance
One of the most famous stories in Hindu mythology goes like this-
Veeravati was visiting her brothers on the auspicious day of karwa chauth. She began to feel dizzy as the day went on. She was eagerly awaiting the moment she could end her fast by seeing the Moon.
Her brothers noticed that she was getting worse and worse. So, they decided to trick her.
They gave her an object that looked like the Moon. She thought it was the real moon.
She ended her fast by seeing this Moon-shaped object.
But at that moment, she got the news that her husband had passed away.
She vowed to follow the fast with all her heart every month and asked the divine deities to help her.
Her persistence paid off.
Her husband returned to her in the nick of time.
This festival has its origins in the stories of two enthralling figures. In the first, Karva Devi's husband was attacked by a crocodile, and her story is told. Another tradition tells of Savitri, who prayed to Lord Yama, the god of death, to bring her husband's spirit back to life with unyielding resolve.
Another fascinating legend describes how Arjun's trip to the Nilgiris for meditation worried his wife Draupadi. To make sure Arjun was safe, Draupadi pleaded with Lord Krishna for help. After Krishna gave her advice, she chose to fast for Arjun in the same way that Goddess Parvati had fasted for her husband, Lord Shiva.
The festival of Karwa Chauth is observed with great reverence, reflecting the unwavering devotion of Goddess Parvati. To gain Lord Shiva's affection and make him her life partner, she kept a strict fast. To honor this holy custom, married women observe the vrat in order to protect their husbands' health and their long-lasting relationship. This fast is thought to bring prosperity and good fortune to the whole family in addition to long life. In addition to Goddess Parvati, ladies pray to Lord Shiva, Lord Ganesha, Lord Kartikeya, and Karwa Mata in order to obtain their divine blessings on this auspicious day.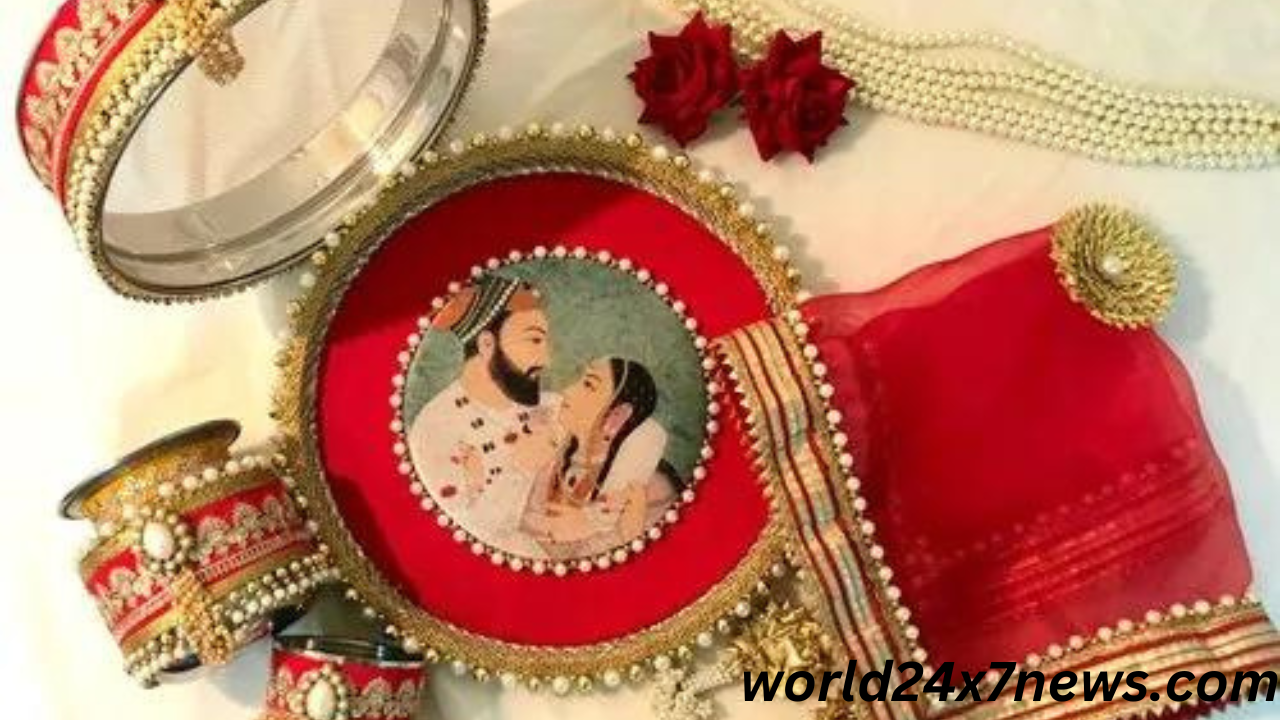 Celebrations of Karwa Chauth 2023
The festival of Karwa Chauth is widely celebrated all over the country, especially in the northern states of India (Punjab, haryana, madhya Pradesh, himachal Pradesh, rajasthan, etc.). The word "karwa" means earthen pots and "chauth" marks the fourth day of the festival.
On this particular day, married women go on a ritualistic trek to get new earthen pot which they decorate with beautiful designs. These pots are used to place delicious sweets and colorful bangles.
In addition to this, women go through a sixteen-step traditional beautification process in which they apply sindoor, wear bangles, and place a bindi among other accessories. This transformation makes them look like newly-weds as they dress in fresh, red-colored traditional clothes and decorate their hands with beautiful mehendis or henna designs.