Recep Tayyip Erdogan: President of Turkey, Biography

Recep Tayyip Erdogan
Biography
Recep Tayyip Erdogan born in February 26, 1954.He was born into a poor conservative Muslim family. Son of Ahmet Erdogan. His father was a Turkish coast guard in Rize where the family lived till Erdogan was 13 years old. On July 4, 1978, he married Emine Gulbaran with whom he later had two daughters, Esra and Sumeyye, and two sons, Necmettin Bilal and Ahmet Burak. Recep Tayyip Erdogan wrote their Biography own. He is a Turkish politician serving as the 12th and current President of Turkey since 2014. He previously served as PM of Turkey from 2003 to 2014 and also as mayor of Istanbul from 1994 to 1998.
Recep Tayyip Erdogan's political career
Erdogan is known as a fiery orator in high school cause of political Islam. As we read in Recep Tayyip Erdogan's Biography, he was born in a poor conservative Muslim family, so During a football match he met Necmettin Erbakan who is a veteran Islamist politician, and Erdogan became active in parties led by Erbakan, despite a ban in Turkey on religiously based political parties. In 1994 Erdogan was elected mayor of  Istanbul on the ticket of the Welfare Party. The election of the first-ever Islamist to the mayoralty shook the secularist establishment, but Erdogan proved to be a competent and canny manager. On March 9, 2003, he won a by-election and days later was asked by President Ahmet Necdet Sezer to form a new government. He took office on May 14, 2003.
Recep Tayyip Erdogan has been in power since 2003
Erdogan has been in power in Turkey since 2003 in Recep Tayyip Erdogan Biography. He was the Prime Minister of the country till 2014. In 2016, there was a coup attempt in Turkey. After this, Erdogan implemented the presidential system by holding a referendum in the country. He has been the President of the country since then. In this way, he has got power for the 11th time in the last 20 years as the head of the country.
President of Turkey
Recep Tayyip Erdogan will once again be the President of Turkey. Erdogan won the run- off round on 28 May. Erdogan received a total of 52.1% of the vote, while opposition leader Kemal Kilikdaroglu received 47.9%. After winning this election, Erdogan will remain President till 2028.
This election happened 3 months after the deadly earthquake in Turkey, in which more than 50 thousand people died. After the earthquake, questions were raised on Erdogan, who was sitting in Turkish power for 20 years. The Turkish currency is also at its all- time low against the dollar. Inflation is more than 40%. Despite this, Erdogan has managed to win the election. However, Erdogan faced a tough fight in this election from Kemal Kilikdaroglu, the opposition leader.
After the election results were announced, Erdogan addressed more than 300,000 people from the balcony of his Istanbul home. During this, Erdogan said that this is a victory for the whole of Turkey. During the speech, he made fun of the opposition party and said – "Bye- bye Kelikdaroglu."
Voting was held for the second time (run- off round) for the presidential election in Turkey on Sunday. Earlier on May 14, no party could get majority in the elections. Erdogan's party AKP then got 49.4% of the vote. At the same time, the party of Kemal Kilikdaroglu, who is called Gandhi of Turkey, got 45.0% votes.
Erdogan is the president of Turkey's AKP (Adalet ve Kalkinma Partisi) party. AKP means Justice and Development Party in Turkish language. On the other hand, Kamal was in the fray from Cumhuriyet Halk Partisi (CHP). It stands for Republican People's Party.
Good relations with Russia
Country created to challenge Russia in Europe. Despite this, his relations with Russia are good. When Russia invaded Ukraine in 2022, Erdogan criticized it, but did not impose any sanctions like other Western countries. Whenever Erdogan mentions Russian President Putin, he addresses him as a friend.
Turkey's second biggest leader till now Erdogan
For years the Islamic forces in Turkey had trouble with this and they continued to oppose it. The Ottoman Empire was defeated in the First World War. After this, Mustafa Kemal Ataturk, who was a commander in the Empire's army, founded Turkey in 1923. At that time the society there was fundamentalist. Despite this, Kamal made Turkey a secular country.
Erdogan himself went to jail in 1999 for opposing Turkey's secular laws as per Recep Tayyip Erdogan Biography. Exactly 4 years after this, in 2003, he became the Prime Minister of the country for the first time. This trend continued till the coup attempt in 2016. While being the Prime Minister of the country, he got a lot of support from the right wing groups. After the referendum held in 2017, he became the first President of the country. The result was that after winning the elections continuously, he has now become as big a leader as Kamal Ataturk, the leader who made Turkey.
Turkey as a country was established after the defeat of the Ottoman Empire in the First World War.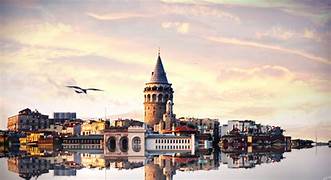 Something Interesting About Turkey-
Bridge connecting Europe and Asia 3% of Turkey is in Europe and 97% is in Asia. This is the reason that it is one of the Eurasian countries. It is also called the bridge connecting Europe and Asia.
Despite having a small share in Europe, Turkey is counted in Europe. Its range extends to Russia, Iran, Iraq, Syria, the Mediterranean, Greece, Bulgaria and the Black Sea.
The population of Turkey is about 8 crore 48 lakhs. Of these, 99% of the population is Muslim. Of these, 84% are Sunni and the rest are Shia. The capital is Ankara.
It is the only country in the world which is Muslim majority but secular. Here women have more freedom than other Muslim countries.
Here the population of Istanbul is the highest at about 1.55 crores. It ranks 15th in the world in terms of population. It is the only city in the world, which is spread over two continents.
Santa Claus aka St. Nicholas was born in Turkey. Santa Claus was born in Patara, Turkey in the third century.
It is on top in terms of consumption of tea per day in the world. Here per capita consumption of tea is 3.15 kg in a year.
Turkish beer market case ranked number 12 in the world. Wine has been made here for about 4000 years.
Don't miss:
Is F16 is a magic wand? F16's features