Finally Novak Djokovic wins his 23rd Grand Slam: beating Casper Ruud in the French Open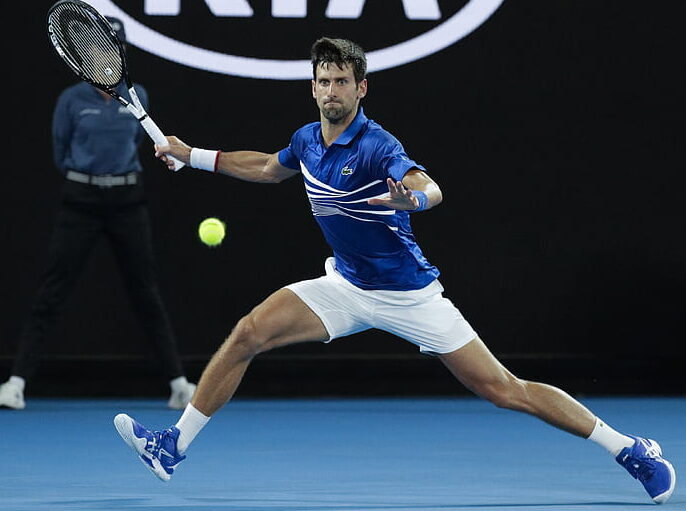 Novak Djokovic has long made it clear that his goal was to surpass all others in tennis history. He has been driven and inspired by the desire to claim the biggest titles on the grandest stages of his sport. Now, he has achieved that feat, standing alone at the pinnacle of men's tennis.
With this victory, Djokovic has surpassed the records of Rafael Nadal and Roger Federer, establishing himself as the greatest man to ever wield a racket.
In the French Open final, Djokovic faced a challenge from Casper Ruud. However, any doubts about the outcome of the match were quickly dispelled as Djokovic regained his composure after a shaky start. Ruud had little chance against Djokovic's dominance, and the match was never in doubt. After 3 hours and 13 minutes, Djokovic emerged victorious with a 7-6 (1), 6-3, 7-5 scoreline, claiming his 23rd Grand Slam singles championship.
Also Read
This triumph adds to Djokovic's French Open titles in 2016 and 2021, making him the only player with three or more titles in each major tournament. His journey to this milestone began with his first victory at the Australian Open in 2008, and he now boasts a total of 10 trophies from Melbourne, seven from Wimbledon, and three from the U.S. Open.
Djokovic was well aware of the historical significance of this tournament and match. However, he remained focused on his preparation and approached it like any other match. He admitted that thoughts of achieving this historic record crossed his mind, but he concentrated on the task at hand and the steps required to secure the trophy.
It is worth noting that Djokovic is now halfway to achieving a calendar-year Grand Slam, a feat not accomplished by any man since Rod Laver in 1969. In 2021, Djokovic came close to accomplishing this milestone, winning the Australian Open, French Open, and Wimbledon, but falling short in the final of the U.S. Open. His pursuit of the calendar-year Grand Slam continues at Wimbledon, which begins on July 3.
Djokovic's coach, Goran Ivanisevic, described his ability to elevate his game during Grand Slam tournaments as a unique software in his head. Djokovic's motivation and hunger were evident throughout the French Open, as he improved with each passing day and demonstrated exceptional skill.
Looking back at the Slam count in 2011, Federer had 16 titles, Nadal had nine, and Djokovic had only one. The Serbian player acknowledged the incredible progress he has made in the past 12 years.
Djokovic's rise to 23 Grand Slam titles has been remarkable. He has won 11 of the last 20 Slams, an impressive achievement considering he missed two tournaments during that period due to his refusal to get vaccinated against COVID-19. Djokovic was unable to participate in the Australian Open in January 2021 and the U.S. Open in the same year. However, the restrictions preventing his participation in the U.S. Open have since been lifted.
With his 23rd Grand Slam victory, Djokovic not only sets a new record for men but also equals Serena Williams' tally in the Open era. Williams, who retired last year, also won 23 Grand Slam titles. It is worth noting that Margaret Court's all-time record of 24 Slam trophies was achieved in the amateur era.
At 36 years and 20 days old, Djokovic becomes the oldest singles champion at Roland Garros, a testament to his enduring greatness. The clay courts of the French Open are known for their demanding nature, requiring lengthy and grueling points. Nadal claimed his 22nd major title at the age of 36, two days after his birthday. Nadal has been sidelined by a hip injury since January and underwent arthroscopic surgery on June 2.
Nadal congratulated Djokovic on his incredible achievement, highlighting how the number 23 was once unimaginable but has now become a reality. Djokovic's triumph also sees him reclaim the top spot in the ATP rankings, surpassing Carlos Alcaraz. He has spent more weeks at No. 1 than any other player in the computerized tennis rankings era.
Djokovic's semifinal victory over Alcaraz showcased his dominance, wearing down the young Spaniard until he suffered from severe cramps. Despite the physical discomfort, Alcaraz continued to play, but Djokovic's superiority was evident in the final two sets, with scores of 6-1 and 6-1.
Casper Ruud, in his third Slam final, fell short once again. He previously lost to Nadal at the French Open in 2022 and to Alcaraz at the U.S. Open in 2022. Ruud acknowledged Djokovic's ability to apply pressure and force opponents to take risks. Djokovic's game reached another level, displaying both exceptional defense and breathtaking winners, while minimizing errors.
Djokovic's ability to perform at his best in tiebreakers was on full display in the first set. During the tiebreaker, he showed his prowess, hitting winners and avoiding unforced errors. Djokovic's career record in tiebreakers stands at an impressive 308-162, with a winning percentage of .655. In 2023 alone, he has a 15-4 record in tiebreakers, including a perfect 6-0 record at the French Open.
The first set alone lasted 1 hour and 21 minutes, characterized by intense and extended rallies. Djokovic's defensive skills and agility were evident as he threw himself into every point, often leaving a trail of clay on his clothes and skin. The lengthy exchanges not only reflect Djokovic's abilities but also drain the energy and willpower of his opponents.
In the second set, Djokovic showcased his full range of skills and took control of the match, breaking Ruud's serve to go up 3-0. His on-court celebrations, including pointing to his temple, demonstrated his confidence and belief in his abilities.
Djokovic's dominance prompted comparisons to Tom Brady, the legendary quarterback who is widely regarded as the "Greatest Of All Time" (GOAT) in the NFL. The debate over who deserves the GOAT title in tennis continues among Djokovic, Nadal, and Federer. However, Djokovic's 23 Grand Slam titles certainly solidify his claim to that status.
At the press conference, Djokovic expressed his confidence and belief in himself, acknowledging that this trophy is further proof of his exceptional tennis skills and his ability to produce high-quality performances.