Tina Turner fashion style, and her wild hairstyles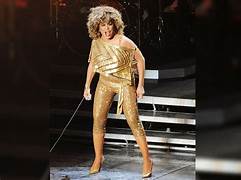 The American-born singer and fashion icon Tina Turner was born in Nashville, Tennessee, in 1939. "The Queen of Rock n Roll" turner started performing at a young age, working in the "local rhythm and blues scene." Singer Turner born into a sharecropping family, she first found prominence as one of the backing singers for her husband's band The Kings of Rhythm. Tina Turner famous fashion style a growling contralto that might smolder or explode, her bold smile and some wild hairstyles.
"The Queen of Rock n Roll" died peacefully
She died at 83 on 24 May, after a long illness in her home in Kusnacht near Zurich, as her manager. She became a Swiss citizen a decade ago. "How do we say farewell to a woman who owned her pain and trauma and used it as a means to help change the world?" Angela Bassett, who played Turner in the 1993 biopic, "What's Love Got to Do With It," said in a statement. "Through her courage in telling her story, her commitment to stay the course in her life, no matter the sacrifice, and her determination to carve out a space in rock and roll for herself and for others who look like her, Tina Turner showed others who lived in fear what a beautiful future filled with love, compassion, and freedom should look like."
Tina Turner fashion style
"The Queen of Rock n Roll" Tina Turner known for her bold smile and some wild hairstyles. Her trademarks included a growling contralto that might smolder or explode, her bold smile and strong cheekbones, and the muscular, quick-stepping legs she did not shy from showing off.
Tina Turner fashion style unique formfitting gowns with scoop necklines helped to define Turner's early days with the Ike & Tina Turner Revue. But she quickly graduated to skin-baring silhouettes, especially naked dresses. During her partnership with designer Bob Mackie, she cemented herself as the queen of minidresses. When she wore a gold-and-silver tiered number while performing in New York City in 1969. Turner's affinity for alluring clothing reached new heights when she wore the infamous red-and-gold flame dress complete with an orange feathered backpiece for a Paris nightclub show. She also collaborated with late designer Azzedine Alaia for many looks and famously attended his 1989 fashion show in an enticing, cutout black revenge dress.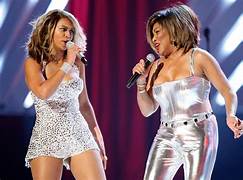 Furthermore, she appeared in a silver, skintight jumpsuit during an unforgettable duet with Beyonce at the award show in 2008.
The late singer also proved fashion has no age limits, as she continued to rock sultry pieces well into her later years. In 1996, Turner wore her signature silver minidress while performing in Belgium, and in 2008, she sported a sparkly red minidress with high-cut slits for her 50th Anniversary Tour, reminiscent of the garment she wore for the 1985 Grammys.
Her decades-long career
She met Ike Turner in 1956 and joined his band's act, Kings of Rhythm, as her stage name, Tina Turner. In her decades-long career, she sold more than 150 million records worldwide, won 12 Grammys. Besides her voice, her several hairstyles often made news as well. Sometimes long, sometimes short, Turner always experimented with her hair (or wigs). Here's a look at some of her hairdos, in no particular order. She also starred in1985 film Mad Max Beyond Thunderdome which featured another of her smashes, We don't need another hero and the who's 1975 rock opera Tommy as the Acid Queen.
The rock and soul singer went on to sing hits such as "What's Love Got to Do With It?," "Proud Mary," "I Don't Wanna Lose You" and "The Best."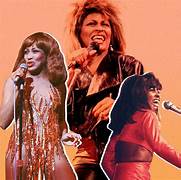 From her gold-and-silver fringe mini dress glory days of the '60s to her denim era of the '80s.
"I don't necessarily want to be a 'strong' person.  She said "I had a terrible life. I just kept going. You just keep going, and you hope that something will come. This (life) came," Turner said in 2019. Tina Turner has remained true to her signature style, which is characterized by boldness, glamour, and confidence.
Don't miss: Global beauty industry: New face of beauty