Meet Tim Cook, The CEO of Apple Company |Education| Struggle.
Name: Tim Cook
Born: 1 November 1960 America
family: Unmarried
Education: MBA from Duke University
Assets: Rs 15600 crores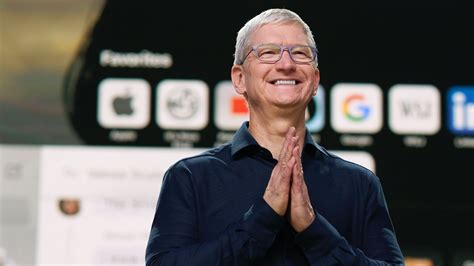 Tim Cook, CEO of the world's largest tech company Apple, said "People should not overuse the phone. Parents should limit the screen time of children." in interview given to GQ Magazine in the month of April. Tim is here to inaugurate the recently launched official stores of the Apple company in Mumbai and Delhi. Tim is considered lucky for the Apple company. When he joined the Apple company in 1998, during that time the company had reached the verge of bankruptcy. Since becoming its CEO in 2011, it has become the world's richest tech company with a market cap of over Rs 235 lakh crore. Co- founder of Apple Company. When Steve Jobs was battling pancreatic cancer, Tim Cook offered to donate his liver to save Jobs.
Tim also takes up social issues a lot. He openly opposed the attacks on people of Asian origin during the Corona period. People were appealed to gather against it. Tim is among the richest CEOs in the world. As CEO, in 2023, he got a salary and allowance of about Rs 401 crore. In this context, his daily salary is more than Rs 1 crore. Although Tim has spoken of donating most of the income as charity.
Diligence of Tim's life
Tim Cook's early life was a struggle. Father Donald Cook worked in a shipyard and mother Geraldine worked in a pharmacy. The family's income was not enough to meet the household expenses easily. In such a situation, he initially did the work of delivering newspapers from door to door. After this, he started working in the pharmacy with his mother. Tim wanted to become an engineer at the beginning of his career, so he graduated in Industrial Engineering from Auburn University, USA. After this, took an MBA degree from Duke University. Tim is single. He also has an elder and a younger brother.
Career
After graduation, Cook joined IBM company. It was considered a rival company of Apple. Cook spent nearly 12 years at IBM. Joined the Apple company in 1998 at the behest of Steve Jobs. In 2000, Tim became Apple's Vice President of Sales and Management. In 2004, he rose to the position of interim CEO and head of the Macintosh division (one of Apple's oldest desktop computers).
When in 2009, Steve Jobs went on leave due to health issues. During this, he announced to make Cook the interim CEO. Steve Jobs in August 2011 Tim was made the CEO of Apple after his death. In a speech given at Auburn University, Tim told that in just 5 minutes interview with Steve Jobs, he had decided that working with Apple Company would be the best decision of his life. He joined Apple as Senior Vice President of Worldwide Operations. Under his leadership, the Apple company has currently become the world's largest technology company. Tim is currently working on the rapid expansion of Apple in the world's most populous country i.e. India.
Something interesting about Tim Cook
In 2022, Time magazine named Tim cook among the world's 100  influential people.
Tim is a Supporter of the LGBT community, and he talk openly about rights.
Tim Cook very conscious about health. He wakes up at 3.45 in the morning.
Tim always mail the officers at 4.30 am , he tell them to be ready for the meeting.
In 1996, doctors told him multiple sclerosis disease. Also in this muscles start getting weak. since then, he has been making people aware of this disease.
Also Read: Round Of Layoffs In Tech Companies
Tim stands as one of the richest CEO Since 2005, he has also served as a board member of Nike. Tim has been active in philanthropic works too.  In 2015, he announced that after paying for his nephew's education, he would donate the rest of his income to philanthropic projects.