Taiwan going to buy 400 anti-ship Harpoon missiles from America to fight China: it's specializes in ground attack
Taiwan will buy 400 anti-ship Harpoon missiles from America. Taiwan will use these ground- launched missiles to counter China. On April 7, the US had announced a contract worth $1.17 billion (Rs 96 thousand crore) for 400 anti- ship missiles. However, during this time the Pentagon did not tell with which country the contract was signed. According to report, Taiwan is the buyer of these missiles.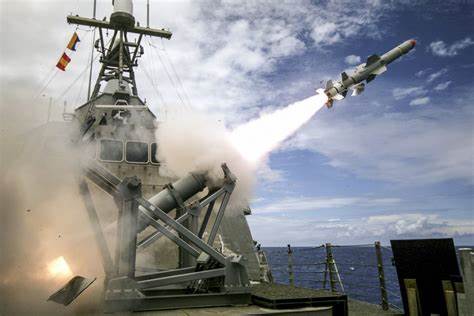 Along with the contract announcement, the Pentagon said production of the missiles would be completed by 2029. Earlier, Taiwan has also bought ship- launched Harpoon missiles. They were made by the Boeing Company of America. Bloomberg quoted Rupert Hammond- Chambers, president of the US- Taiwan Business Council, as saying that a deal has also been signed with Boeing for anti-ship Harpoon missiles.
"The United States' provision to Taiwan of defense articles, which includes sustainment to existing capabilities via Foreign Military Sales and Direct Commercial Sales, is essential for Taiwan's security," Meiners said. 
Contract given to Boeing Company
At the same time, before this contract, the company has also been given a contract of $ 498 million (4 thousand crores) to make launch equipment related to the Harpoon Coastal Defense System. This includes mobile transporters, radars and training equipment. The Pentagon refused to make any statement in this matter. However, he said that the US will continue to provide Taiwan with the necessary defense services to protect it.
Taiwan's Defense Ministry spokesman Sun Li Fang said in a press conference – The ministry had already informed about this purchase. We are confident that the deal will be completed as per schedule. Taiwan has expressed its desire to buy Harpoon missiles from America in 2020 as well.
China did war drill near Taiwan for 3 days
On April 8, China started military drills in 4 areas near Pingtan Island in Taiwan's Fujian province. A total of 172 Chinese fighter jets took off in the three- day drill. During this, the People's Liberation Army (PLA) of China used live ammunition. In fact, China was agitated after the meeting of Taiwan's President Sai Ing Wen with US Speaker McCarthy.
China had also banned two American organizations. According to reports, these two organizations had planned the US visit of President Sai Ing Wayne. These institutions also include the Ronald Reagan Library of California.
China will invest in Afghanistan's 1 trillion lithium Reserve
Taiwan biggest flash point in US- China relations
The US restored relations with China in 1979 and broke off diplomatic relations with Taiwan. However, despite China's objection, America continued to supply arms to Taiwan. The US has also supported the One China policy for decades, but adopted an ambiguous policy on the issue of Taiwan.
President Joe Biden is currently seen going out of this policy. He has said on many occasions that if China attacks Taiwan, America will come to its rescue. Biden increased US officials' interaction with Taiwan while continuing arms sales.
The effect of this was that China has made its intrusion aggressive in Taiwan's air and water area. According to a report published in NYT based on American analysts, China's military capability has increased to such an extent that American victory in the defense of Taiwan is no longer guaranteed. China now has the largest navy in the world and the US can only send a limited number of ships there.
If China captures Taiwan, it will start showing its dominance in the western Pacific Ocean. This could also threaten the US military base on Guam and the Hawaiian Islands.